Loading…
MORE INFORMATION ON BMBA EVENTS
PHILADELPHIA AVE STREET FAIR
WINE WALKS
BREAKFAST MEETINGS
SHADOW DAY
PHILADELPHIA AVENUE STREET FAIR
Hosted by the Berks-Mont Business Association, the Philadelphia Ave.Street Fair is planned for June 10th and will include a full line up of entertainment.  Please join us this year!
Tons of fun activities including a guest visit by Bluey, two petting zoos, live music on two separate stages all day long, food vendors, beverages, food trucks, crafters and pop-up entertainment for the whole family.
Businesses of all sizes, a variety of nonprofit organizations, groups and clubs will be on hand to provide information, activities, raffles and more!
Saturday – June 10, 2023, Rain Date – June 11, 2023
10AM – 4PM
Go to the PASF event page for more information and to register as a vendor or sponsor today!
SPONSORSHIP OPPORTUNITIES
---
A Very Limited Number of Platinum Level Sponsorships ($750) – Business Hospitality Tent
The BMBA will create a fully furnished, highly visible, well-appointed hospitality space to advertise your company or organization at a prime location which includes a tent, table, and chairs to provide comfortable accommodations for event attendees
Set-up and breakdown included
You are encouraged to provide marketing materials to be available at your space and may also set up to suit your needs
A custom sign will be created to recognize your sponsorship and promote your business.
Business name & logo listed in all news releases, on social media and periodic mention on public address the day of the event
Gold Level Sponsorship ($400)
Special Recognition Sponsorship for supporting the Berks-Mont Business Association.
A custom sign will be created to recognize your sponsorship and promote your business.
Joint promotion on social media
Includes all Silver Level Sponsorship rewards plus your choice of the location of your exhibitor booth
Silver Level Sponsorship ($200)
One exhibitor booth
Business name listed in all news releases
Business name listed on all advertising material
Periodic mention of sponsorship on public address the day of the event
Promotion on social media
Your business will be promoted on the BMBA website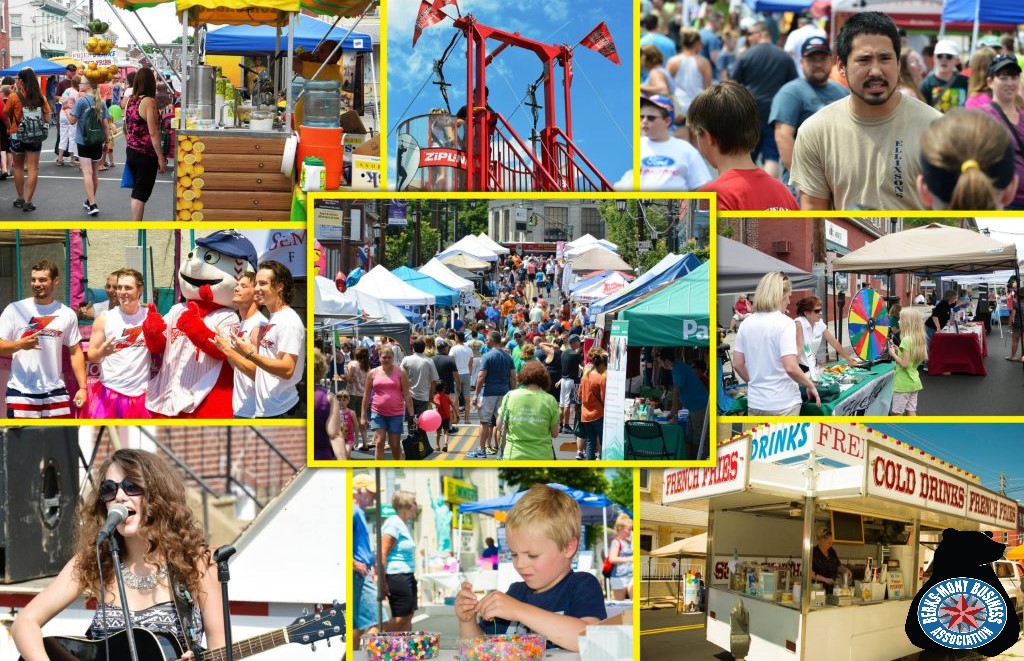 WINE WALKS
The BMBA sponsors a seasonal monthly Wine Walk, to promote community interactions and local businesses. Wine walk participants will pay a registration fee, which includes a drinking cup, wristband, and a guide to the participating wine walk businesses.
Boyertown Wine Walk – Business Participation
Participating businesses will be responsible for providing the wine and/or food for the sampling, and to promote any sales or offers they will have that night. We are recommending to have a minimum of 10 25oz. bottles of wine the night of the event.
Non-main street businesses can still be a part of the wine walks. You can partner up with a main street business for the event. Or, when offered, be a wine walk supporter and provide inserts for the goodie bags. When offered, goodie bags are distributed to the first 200 registrants, filled with information and offers from local businesses. BMBA members can provide inserts for the promotional bags at no cost. Non-BMBA members, $25.
Requirements to participate:
Active BMBA membership
Be a local business
If a wine walk business participant, provide wine the night of the event (enough for 300 registrants)
Promote your store (maybe with discount for wine walkers, or offers or gift. Totally up to you how you promote your sales that night)
If interested, please contact Ingrid Weil (Ironhorse Realty) at 610-334-7305 to register as a wine walk business, to drop off your contributions for the goodie bag handout, or for more information. Or complete the registration form and return to Ingrid's office at 30 E. Philadelphia Avenue or email form to missingrid73@gmail.com. Registrations are due NO LATER than two weeks prior to the Wine Walk. Businesses will be chosen each month to participate as a wine walk business. (Business selection will change month to month).
BREAKFAST MEETINGS
Monthly breakfast meeting are held the first Wednesday of each month. They are held at Friendship Hook & Ladder Fire Company. Most meetings include one or more special guest speakers.